Posted 02/01/2017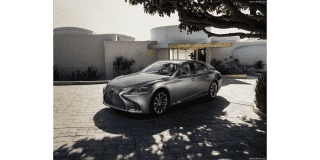 We can all appreciate the level of craftsmanship and engineering that goes into a luxury Yacht. With the 2018 Lexus LS, you'll soon be the captain of your own asphalt navigating, four-wheeled luxury ship.
The LS is the model that initially launched the Lexus brand in 1990, completely revolutionizing the standard of flagship luxury brands with an unmatched level of performance and reliability. Now, nearly three decades later, the Japanese automaker has launched the fifth generation of their flagship LS model at the North American International Auto Show.
This new model will be based off an extended LC500 chassis. Lexus is now making the transition to providing a much more in-tune and engaging drive with its upper-tier vehicles. The LS will now feature a twin turbo 3.5 litre V6 engine that can output an impressive 415 HP and 442 lb-ft of torque.
As for the interior, you can bet that Lexus will have some big things in store. At the show, the company hinted that the LS would introduce "a whole new dimension to luxury cars." We do know that it will feature 80's style knobs inside, invoking a sense of nostalgia for those who grew up with the older-styled dashboards of years gone past.
No matter what your taste, here at Lexus of Richmond Hill, we have a great selection of new and pre-owned vehicles for you to fall in love with. Give us a call to book an appointment, or better yet, come and pay us a visit at the corner of Yonge and Gamble in Richmond Hill and we'll take care of you.