Posted 02/21/2017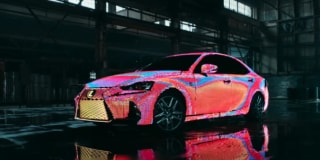 Are you a fan of the Lexus IS? Are you a fan of its ability to turn heads wherever it goes?
Well, you're in for a treat because the team at Lexus and New York Fashion week came together to collaborate on the Lexus Lit IS. With 3,000 watts of light placed all around the car, the Lit will take the term "head turner" to new heights.
The car is able to display an image on a pixelated curved canvas according to Kristen Little, a producer at Team One - the same team that helped develop the open frame works app that controls the lights and images.
All-in-all the lights and app come together in different modes to create a spectacular display of fast moving images and lights. The promo spot along with New York Fashion Week had the Lit lights synchronized with the shows on screen to create an incredible visual display.
Although the Lexus Lit IS is one of a kind, you can come and see the brilliance of a standard Lexus IS as well as all other Lexus models at Lexus of Richmond Hill, located at the corner of Yonge St. and Gamble in Richmond Hill.