Posted 10/03/2016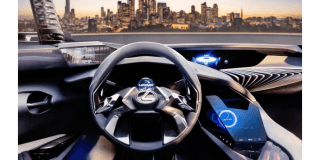 The Lexus brand has always been synonymous with innovation. The Japanese automaker essentially introduced a new car category with the luxury SUV market thanks to the release of the Lexus RX in the 1990s.
Now, over two decades later, the luxury automaker is back at it again by identifying a new market brand with the crossover concept - the Lexus UX. The new vehicle has been created by Lexus' European Design Centre and aims to satiate the appetite of urban car buyers who want to live in a more connected environment. By providing a wide variety of technological features, Lexus wants to provide a vehicle that identifies a new set of needs for an emerging car-buying base, the Millennials.
Taking a look at the interior of this behemoth will have any viewer second guessing it for a futuristic spaceship. With bold, accentuated lining, it really provides an almost alien-like feel to the cabin space. The intuitive HMI technology (human-machine interface) looks like something from a scene in Will Smith's iRobot. The centre console features a prominent, crystal structure which hosts a hologram-style display of an HVAC and infotainment system.
Making its global debut at the Paris Auto Show in late September, the UX is still a little while away from reaching consumers. That being said, our team of Lexus experts will be happy to answer any questions that you may have about the UX and other products in the Lexus lineup. So be sure to visit Lexus of Richmond HIll and let us get you into the car of your dreams.